Boutique New Zealand
Boutique New Zealand
New Zealand is known for its vast countryside and distinctive natural beauty. Get familiar with the back roads as you drive south with Boutique New Zealand. Explore Napier, home to limitless outdoor adventures for the thrill seeker inside us all. Wine and dine in Martinborough, where the village square is the perfect place for a unique "walk the wineries" experience. Experience Blenheim, a cozy community with gourmet food and relaxing recreational opportunities. End in Christchuch after you've seen countless sprawling vistas from the front seat of your vehicle. Cruise down the Avon River or see the city from a hot air balloon. Whether you prefer high adrenaline or leisurely days, this itinerary is sure to satisfy every type of traveler.
Your Itinerary Includes:
Airport Transfer
7 day Budget car rental
2 nights Auckland
2 nights Napier
2 nights near Wellington
Interislander Ferry (Wellington to Picton)
2 nights Blenheim
2 nights Christchurch
Meals: 4 breakfasts
Educational and Learning
Luxury
Romance and Honeymoons
Spa and Fitness Trips
May 01, 2022
through
September 30, 2022
Itinerary Map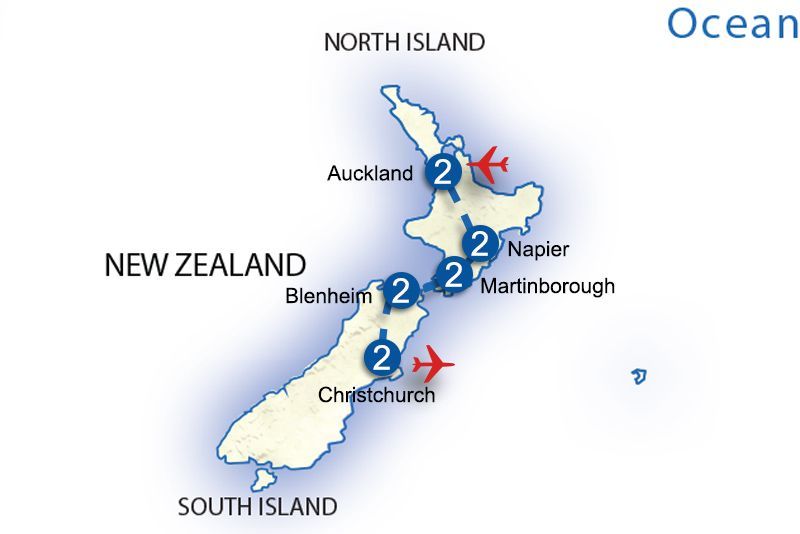 Drive Napier to Martinborough
At leisure, Martinborough
Drive Martinborough to Blenheim
Loading Itinerary Content...
Additional
Offers

May 01, 2022

to

September 30, 2022

October 01, 2022

to

October 31, 2022

November 01, 2022

to

January 31, 2023

February 01, 2023

to

February 28, 2023

March 01, 2023

to

March 31, 2023
Swain Destinations: Boutique New Zealand

Heritage Auckland,Superior, Auckland
The Crown Hotel,Superior, Napier
Martinborough Hotel,Superior, Martinborough
Hotel D'Urville,Superior, Blenheim
The Classic Villa,Superior, Christchurch


Standard (3*) to (3 1/2*) Offering limited facilities and services, these are moderate rooms with private ensuite bathrooms that offer exceptional value for money for the price conscious traveler.

Superior (4*) to (4 1/2*) These hotels are typically better equipped with more comfortable accommodation, and are often in a fairly central location to major sightseeing.

Deluxe (5*) Boasting luxurious and spacious surroundings, these accommodations offer the highest level of international quality accommodation and service. Typically with exquisite décor, exceptional service and superb award winning restaurants.

Luxury (5*) + Premier accommodations in choice settings offering exquisite surroundings, the finest guest services and indulgent amenities. These properties are often one of a kind and are ideal for discerning travelers.
Swain Destinations: Boutique New Zealand

Auckland City Sights
Visit the North Shore, Queen Street and Auckland Viaduct, then Parnell Village, where historic buildings have been transformed into a trendy shopping area. Drive the scenic waterfront to the Michael Joseph Savage Memorial Park, for panoramic views over Auckland city and Waitemata Harbour.

Auckland Harbor Sailing
Enjoy the unique Auckland landscape from the water on this peaceful cruise. Feel the wind fill the sails and guide you under the harbor bridge and back past Auckland's landmarks. Engage the friendly local crew, and find out more about Auckland harbor and its great sailing past. Take a rope or steer the helm and help the crew sail this harbor cruising yacht. Sit back in the open cockpit for expansive views of the bustling city from the best view in town. Enjoy the 'City of Sails' as you join the yachts on the harbor and the relaxed pace of harbor sailing.

Auckland Highlights and Cruise
Enjoy Auckland city and the waterfront. Visit the famous Mount Eden, a dormant volcano whose summit offers excellent panoramic views of the city and harbors. Drive to the trendy shopping area of Parnell Village, with its historical buildings that have been transformed into boutique, antique, craft and specialty shops. Then, join the ?Pride of Auckland? for a sailing experience on the Waitemata Harbor. Lunch is included.

Auckland to Rotorua (via Waitomo)
Depart Auckland for your ride south to Hamilton. Travel through the rich Waikato area, famous for its dairy farms, kiwi fruit orchards, thoroughbred horses and the Waitomo Caves! Enter subterranean limestone caverns to view the glow worm grotto; surely one of the wonders of the world. Continue over the bush clad Mamaku Ranges to Rotorua. Lunch is included.

Auckland Untamed Island Tour
A thirty minute flight by light plane over the sparkling waters of the Hauraki Gulf brings you to majestic Great Barrier Island. After breakfast at a local café take an easy half hour walk on graveled tracks and boardwalks past giant Nikau palms and rare native flora and fauna to the Kaitoke natural thermal springs. The adventure continues as we drive past native bush and rugged peaks to the secluded natural harbor at Port Fitzroy where we have a relaxed kiwi style picnic lunch. A short drive takes us to a sweeping, often deserted stretch of pristine white sand. There is time here for a swim or a meander along the beach to visit the graves of those drowned in one of New Zealand's worst shipwrecks. Visit the only working cattle and sheep farm on the island where relics of the past remain. At a nearby stream, monster eels come when called and can be fed - if you dare! This unforgettable day is rounded off with a climb to the top of Windy Canyon, a spectacular short walk. The path winds around rocky outcrops and past sheer cliffs coated with rata vines and takes in breathtaking views of the island and beyond.

Best of Both Worlds Tour
Your full day tour takes you on a journey of contrasts from the highlights of Auckland City to the wilderness of the west coast rainforest. Take a journey of discovery designed to explore the history and sights as well as see how Aucklanders live and play. In contrast, just 30 minutes from the city are the wild west coast black sand beaches and fascinating rainforest. Learn about the flora and fauna and the history of this area with a knowledgeable guide in a small group environment.

Coast and Rainforest Walk
Enjoy panoramic views from the sweeping decks at Arataki Visitor Centre, and admire the Maori carvings standing guard. Walk with a guide through an area of Auckland?s coastal rainforest on the rugged west coast and visit an area of untouched rainforest with 1,000 year old kauri trees. This tour includes a picnic lunch. Private tour options available.

Coromandel Coast and Rotorua 3-day tour
Depart Auckland for a three day experience to visit the beautiful Coromandel Peninsula and Rotorua. See the picturesque farmland of the Pacific Coast Highway and visit the historic gold town of Thames. Travel south to Karangahake Gorge for a delicious lunch before taking a guided walk through the rainforest. See the spectacular scenery, glow worms, famous Hot Water Beach, flora and fauna and the thermal city as we make our way to Rotorua.

Coromandel Day Tour
Experience Coromandel Peninsular with its mountainous, forest-covered backbone, sheltered bays and stunning coastlines. Take a memorable journey on a mountain railway. Cross the mountainous divide and visit Hot Water Beach with its hot springs in the sand and Cathedral Cove where the Pacific Ocean washes through a natural rock arch.

Great Tastes of Matakana
The Matakana full day tour includes a veritable feast of art, cheese, wine, honey, local cuisine and chocolates. A visit to renowned Morris & James Pottery and a tasting at the quite remarkable Brick Bay are highlights. Savor New Zealand food, wine and art at its best.

Waiheke Island Explorer
Be introduced to Waiheke Island ? a picturesque 35 minute boat trip followed by a scenic highlight tour of Waiheke?s stunning locations. An experienced guide will give you a taste of the views, culture and history that make up this diverse island. On conclusion of the tour, take advantage of the complimentary additional all day bus pass allowing you either to return to a destination on the tour or discover the island further.

Waiheke Wine Tour
Enjoy a day tour of three vineyards, which includes pick up and return from the ferry or from your Waiheke Island accommodation as well as vineyard costs. Today's excursion also includes commentated scenic tour of the Island with time to stop for photographs. Lunch can be arranged at own expense. One vineyard may be replaced with an olive oil visit and tasting.

Waitomo Caves Tour
Travel south from Auckland through the rich farmland of the Waikato where New Zealand?s longest river (Waikato River) can be seen. Enjoy a guided tour through the long galleries and lofty chambers of the world famous Glow Worm Caves. Take a boat ride through the glow worm grotto, a place illuminated by thousands of tiny lights emitted from the glow worms.

West Auckland Wine Tour
A full day of fantastic wine, food and stunning coastal scenery. Visit 4 to 5 selected wineries from historic Kumeu wine region, 20 minutes from downtown Auckland. Enjoy the rolling green farmland and native bush scenery, and see the stunning 'black sand' West Coast Muriwai beach.

Wilderness Experience
Enjoy an afternoon tour of Auckland?s largest Regional Park ? the Waitakere Ranges. Travel to the Arataki Centre perched high in the Waitakere Ranges where the sweeping decks give breath-taking panoramic views. Head further west and experience the power of the wild and rugged west coast. Feel the black sand beneath your feet as you stroll along some of the most awe-inspiring beaches the world has to offer. Your eco-tour continues in the lush rainforest where you hear native birdsong as you walk the easy bush tracks amongst New Zealand?s famous kauri trees and giant tree ferns.

A Twilight Odyssey
Experience Hawke's Bay at its best, with a progressive 3-course meal across some of New Zealand's winery restaurants. Take a scenic drive through the vineyards as you learn about the region and it's wines. Enjoy a full interactive wine tasting alongside gourmet platters. Take in the breathtaking panoramic views from Te Mata Peak while enjoying a glass of bubbles as the sun sets.

Gannet Safari
Travel along the scenic coast from Napier to Te Awanga and experience the world?s largest, most accessible gannet colony and nesting place at Cape Kidnappers. Get to within a few feet of these remarkable birds with no walking required. On arrival at the gannets, take in the beautiful scenery from your position at the brink of the cliffs edge. Enjoy refreshments whilst watching the gannets perform around you (season is September ? April).

Maori Culture & Heritage
What better way to engage in Maori culture than to hear it first hand from traditional Maori? Guided by a Maori personality, spend time with the Ngati Kahungunu people and talk about their culture, hear their stories, myths and legends. Visit a Marae (traditional meeting house), experience a Powhiri (Maori welcome), and engage in storytelling.

Napier's Gourmet Experience
Experience Hawke?s Bay?s internationally acclaimed wine and food industry. For an afternoon excursion, relax where art meets science amongst a wealth of scenery and take a behind the scenes look at a winery with a chance to learn from a local wine maker about wine and food pairing and indulge in gourmet local produce. A twilight excursion is also available.

Akaroa Tour
Board a nature and harbor cruise on the Canterbury Cat and explore the volcanic harbor where sightings may be made of the world?s smallest dolphins, Fur Seals and numerous seabirds (opportunities to swim with dolphins also available). If time allows, stroll through the village, taking in the quaint French charm which is unique to Akaroa. Morning and afternoon tea, lunch and a cheese tasting at the Barry?s Bay Cheese Factory is included.

Arthur's Pass National Park and TranzAlpine
Sit back and relax on board the TranzAlpine, a train journey that crosses the Canterbury Plains, winds its way through the stunning Waimakariri Gorge, pass massive viaducts, through tussock-covered high country before heading into the Southern Alps. Take guided short walks through Arthurs Pass National Park, experience forests, rivers and mountain vistas. Visit the Waimak Gorge before arriving back into Christchurch.

Christchurch Must See Three
This morning tour commences with a transfer to the Air Force Museum at Wigram, hosting 28 fully restored aircraft with static and interactive displays. The next stop is the International Antarctic Centre, recreating the atmosphere of Antarctica and providing an interactive experience. The tour then moves on to Willowbank Wildlife Reserve which contains a large variety of animal life both native and introduced. View the kiwi in its natural habitat, with an opportunity to feed and pet the animals throughout the reserve. The tour concludes with a drop off back to your accommodation.

Hot Air Ballooning
Christchurch is the only place in the world where one can fly in a balloon from the center of the city, toward snow-capped mountains, within view of the ocean. The champagne balloon flight is a 4-5 hour experience, with the hour long flight beginning at sunrise. Perhaps assist the crew as they prepare the balloon for the flight. After landing in a farmer?s field, celebrate the successful flight with champagne.

Kaikoura Whale Watch
Travel by road or train through the rolling hill country of North Canterbury, enjoying the beauty of its rural pastoral scenes to Kaikoura. This area is renowned for its variety marine mammals, including the giant sperm whale and the acrobatic Dusky Dolphins (sightings not guaranteed). Arrive in Kaikoura and board the whale watch boat. Before heading back, visit a seal colony and make a stop at the North Canterbury vineyard to enjoy a wine tasting. Lunch is included.


About Swain Destinations
Customizing the travel experience, Swain Destinations is the leading U.S. provider of completely personalized exotic vacation experiences. Since 1987, Co-Founders Ian and Linda Swain, and their dedicated team of destination experts have offered American travelers the opportunity to design distinctive trips to intriguing international locales, including Australia, New Zealand, the South Pacific, Asia, India, and Africa. From adventure-packed trips to leisurely getaways, Swain Destinations curates itineraries based on each individual's travel preferences. Dynamic experiences range from a chef's table dining extravaganza on Hayman to a safari journey across the East African Plains.