Exploring Britain and Ireland
Standard
Exploring Britain and Ireland
Travel to some of the world's most magnificent cities and through the magical countryside of Britain and Ireland. This comprehensive journey takes you through rolling farmland and across the Irish Sea, through England, Ireland, Scotland and Wales. Marvel at the mystery of Stonehenge. Experience a traditional afternoon tea in London. Be mesmerized by the breathtaking landscapes of Ireland's Ring of Kerry, the rolling hills of the Scottish Borders, and the medieval "shambles" of York. Admire the ancient Roman ruins in elegant Bath. Get acquainted with Britain's pageantry in the royal cities of Edinburgh and London.
November 06, 2023
through
November 20, 2023
Book by:
November 02, 2023 7:00 PM
Itinerary Map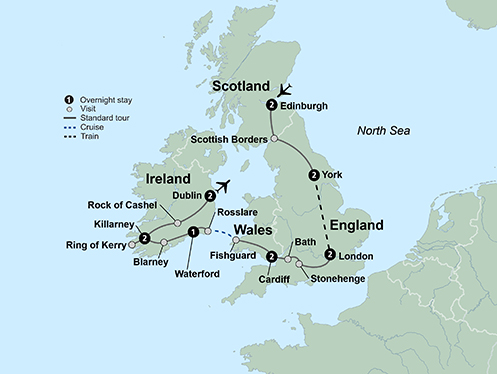 Loading Itinerary Content...
Additional
Offers

November 02, 2023

7:00 PM

November 06, 2023

to

November 20, 2023

June 05, 2023

to

June 19, 2023

June 26, 2023

to

July 10, 2023

July 10, 2023

to

July 24, 2023

July 17, 2023

to

July 31, 2023

July 24, 2023

to

August 07, 2023

August 28, 2023

to

September 11, 2023

September 04, 2023

to

September 18, 2023

September 13, 2023

7:00 PM

September 17, 2023

to

October 01, 2023

September 14, 2023

7:00 PM

September 18, 2023

to

October 02, 2023

September 20, 2023

7:00 PM

September 24, 2023

to

October 08, 2023

September 21, 2023

7:00 PM

September 25, 2023

to

October 09, 2023

September 28, 2023

7:00 PM

October 02, 2023

to

October 16, 2023

October 16, 2023

to

October 30, 2023

October 23, 2023

to

November 06, 2023

March 18, 2024

to

April 01, 2024

April 08, 2024

to

April 22, 2024

April 15, 2024

to

April 29, 2024

April 22, 2024

to

May 06, 2024

May 06, 2024

to

May 20, 2024

May 13, 2024

to

May 27, 2024

May 19, 2024

to

June 02, 2024
Exploring Britain and Ireland

Edinburgh
Edinburgh is the capital and second most populous city in Scotland. Edinburgh has been recognized as the capital of Scotland since the 15th century. The city's various historical and cultural attractions, as well as the appeal to the tourist market, makes Edinburgh the most popular tourist destination in the UK after London, attracting over 1 million overseas visitors each year.

York
The historic walled city of York in North Yorkshire is located in the northern part of England. Today York is still encircled by its ancient medieval walls. York was founded by the Romans in A.D. 71 and is considered to be one of the great cities of the medieval world.

London
A world in a city is a common way to describe the capital of England and its 9 million inhabitants. A cultural melting pot of over 230 nationalities, London is the financial, political and cultural capital of the UK and has a history dating before the Romans in A.D. 43.

Stonehenge
This mysterious formation dates back to the Stone Age. Explore various theories on how the colossal stones arrived at the location and their purpose.

Bath
Bath is a city in Somerset, southwest England located 97 miles west of London. The city is known for the Roman baths located here that the early Romans built. In the Georgian era the city became a popular spa town, and today many tourists come to view the Roman baths. In addition to the Roman baths and hot springs, Bath is also known for its Georgian architecture.

Wales
Wales is a country that is part of the United Kingdom and the island of Great Britain. It is bordered by England to the east, the Irish Sea to the north and west, and the Bristol Channel to the south. Wales is populated by over 3 million people; its capital city being Cardiff. Wales uses the pound sterling as their currency.

Waterford
Waterford is Ireland's oldest city with a history that dates back to Viking times. This busy port city on a tidal reach of the River Suir is known as the home of the famous Waterford crystal.

Blarney Castle
Blarney Castle is a medieval castle in Blarney near County Cork, Ireland. The castle was built nearly 600 years ago by Cormac MacCarthy. The castle is very popular with tourists because of the Stone of Eloquence, more commonly referred to as the Blarney Stone. Millions of tourists have flocked to the castle in kiss the Blarney Stone, located at the top of the castle.

Killarney
Killarney is a town in County Kerry in southwestern Ireland. The town is on the shores of Lough Leane which is a part of Killarney National Park. Killarney has been welcoming tourists and visitors for over 250 years.

Ring of Kerry
The Ring of Kerry is a 111-mile-long circular tourist route in County Kerry in southwestern Ireland. It is Ireland's longest and one of its most diverse big circle driving routes. The route features beautiful beaches, lakes, medieval ruins, mountains and lakes. Driving The Ring is a very popular daytrip for tourists visiting the area, especially in the summer months.

Jaunting Car Ride
A Jaunting Car Ride refers to a two wheeled carriage pulled by a single horse, with seating for 2 or 4 people placed back to back. This was the main mode of transport for people in Dublin throughout the 19th century and around other parts of Ireland at that time. Jaunting cars are primarily used in Ireland today for tourists.

Dublin
Dublin is the capital and the largest city in Ireland. Dublin is located on Ireland's east coast, and sits at the mouth of the River Liffey. Dublin was founded in 841 by the Vikings. Today, Dublin is the economic center of Ireland and the historical and contemporary center for industry, education and the arts.


Exploring Britain and Ireland

Apex Grassmarket Hotel
31-35 Grassmarket, Edinburgh, United Kingdom


DoubleTree by Hilton York
St Maurices Rd., York, United Kingdom


Leonardo Royal Hotel London Tower Bridge
45 Prescot Street, London, United Kingdom


Hilton Cardiff
Kingsway, Cardiff, United Kingdom


Granville Hotel
Meagher Quay, Waterford, Ireland


Scotts Hotel
Scotts Street, Killarney, Ireland


Aloft Dublin City
1 Mill St, The Liberties, Dublin, Ireland



About Collette
With Collette, the World is Within Your Reach

True adventures go beyond incredible destinations or inclusive packages. Collette delivers a sense of possibility across all seven continents.

Since 1918, we have been sharing our love of travel. Today our worldwide travel collection features comprehensive land tours, river cruises, rail journeys, small group tours, family trips, garden holidays and more. With Collette, wake each morning on tour with a new experience in front of you, and when your head hits the pillow, you will know it has been an amazing day. Best of all - we seamlessly handle the details. All you have to do is enjoy the adventure.